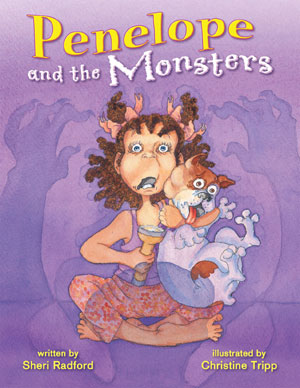 Written by Sheri Radford
Illustrated by Christine Tripp
Published by Lobster Press
ISBN 1894222946
Penelope won't go to sleep. Never ever not in a million trillion gazillion years.
Her father doesn't believe her, but Penelope knows there are monsters lurking in the dark. How else can she explain the dancing drawers, creeeeaking closet, and bounce-bouncing bed? Will Penelope have the confidence to turn on the lights and call out the things that go bump in the night?
In this new Penelope misadventure, our spunky heroine takes on gnomes and trolls and giants with the same comic flair that brought down the house in Penelope and the Humongous Burp.
PRAISE FOR THIS BOOK
According to a September 2005 write-up in the Midwest Book Review: "Imaginatively written by Sheri Radford, and featuring the lively illustrations of Christine Tripp, Penelope and the Monsters is a charmingly delightful picturebook which is ideal for family, school, and community library picturebook collections. Also very highly recommended is Radford and Tripp's first title about this unusual and comic little heroine, Penelope and the Humongous Burp."
In a June 24, 2005, review in CM: Canadian Review of Materials, Patricia Fay says: "Penelope and the Monsters is the second book in the 'Penelope' series, and Sheri Radford and Christine Tripp have created another hit!" Fay adds: "This story will appeal to children who worry about monsters and strange shadows at night. Penelope is a strong character who can and does stand up to these 'monsters.'"