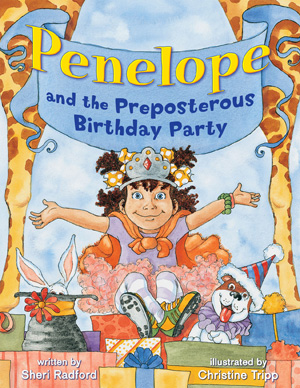 Written by Sheri Radford
Illustrated by Christine Tripp
Published by Lobster Press
ISBN 10: 1897550006
ISBN 13: 9781897550007
The latest book in the Penelope series is a comical birthday celebration with hilarious illustrations and uproarious text. Penelope is having a birthday party and everyone is invited. But as her parents quickly realize, Penelope really did invite everyone. As ballerinas leap through the air, ponies meander through the kitchen, soccer players kick penalty shots in the living room, and an elephant makes himself at home, Penelope's flabbergasted parents find increasingly dramatic words (outrageous… ridiculous… preposterous) to describe the growing chaos. Even though Penelope meant well by not leaving anyone out, it's clear that this birthday bash has gone berserk… bonkers… bananas! Ring the doorbell and join Penelope's party—with this birthday girl, it's bound to be a blast!
PRAISE FOR THIS BOOK
A review in Resource Links magazine awards the new Penelope book its highest rating, "E" for "Excellent, enduring, everyone should see it!" Read the review.
In an April 2009 review in CM Magazine, Suzanne Pierson gives the book 3.5 stars out of 4 and a rating of "Highly Recommended." She says: "Author Sheri Radford has created a strong character in Penelope, a girl with lots of energy, good intentions, and at least a little understanding when even she has to admit that next year's party won't include the elephant. Radford plays with language in the text, using repetition, alliteration and numbers." Pierson adds: "Almost everyone will be able to see someone like themselves in this story. Children will also enjoy looking for Penelope's long-suffering dog in the illustrations."
A spring 2009 review in Canadian Bookseller Magazine also praises the book: "Penelope is having a party and you're invited. Why not? There'll be magicians, soccer players, clowns, and even an elephant. Sheri Radford and Christine Tripp have collaborated again to create Penelope and the Preposterous Birthday Party, a balloon-busting, cake-throwing tribute to children's birthday parties gone wild. When Penelope invites her whole soccer team and the clowns from the circus they went to last week, her parents wonder if the party can get any wilder. Youth readers will revel in the out of control antics of Penelope's party guests. Tripp's illustrations burst with life and detail, matching Radford's zany story. Penelope and the Preposterous Birthday Party is a great gift for any young birthday boy or girl and a story that will definitely be read again and again."
In a March 2009 review in Quill & Quire, Ciabh McEvenue says: "While the [Penelope] stories are set in straight prose, Penelope is a character firmly in the tradition of the Eloises and Jillian Jiggses of the more giddy, rhyming kidlit landscape (with maybe more than a little Munsch thrown in), with the added appeal and support of Christine Tripp's kinetic and vividly drawn watercolour scenes." McEvenue adds: "Young readers will enjoy and respond to the familiarity of the incremental build of the narrative and will anticipate upcoming scenes. The story is predictable and very simply told; however, the accessibility and familiarity of the whole package is conducive to inevitable retelling."