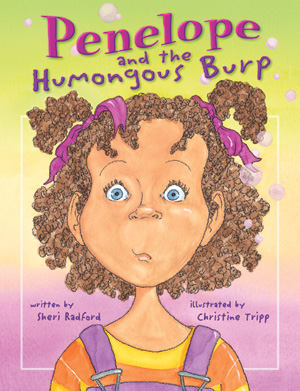 Written by Sheri Radford
Illustrated by Christine Tripp
Published by Lobster Press
ISBN 1894222830
The first book in the Penelope series features comic mayhem when the heroine gulps her grape soda in a far-from-ladylike manner.
Call the doctors! Phone the firefighters! Get the police! Too thirsty to heed her mother's warnings not to drink so quickly, Penelope soon learns what disastrous events can come from drinking a simple glass of grape soda. What will happen next when Penelope feels those funny bubbles building up in her stomach?
Penelope and the Humongous Burp gives kids the giggles with its adorable star, fast-paced story, and lively illustrations.
PRAISE FOR THIS BOOK
In an April 2004 review in Quill & Quire, Jessica Kelley calls the book "a cautionary yet gleeful tale of the perils of too much soda pop." She also says: "With its exuberant pictures, slightly naughty subject matter, silly words ('glurble glooble'), and repetitive phrases, Penelope and the Humongous Burp could lead to some comical storytimes."
Lian Goodall says in a Jan. 10, 2004, review in the St. Catharines Standard: "Penelope and the Humongous Burp by Sheri Radford reminds me of Good Families Don't by Robert Munsch. This humorous treatment of body functions begins with young Penelope hastily drinking so much soda that her tummy beings to go 'glurble glooble.' The 'bbuurrp' she emits shakes the walls, the next one knocks them down and then the whole house tumbles! Kids will find this story amusing, and be reminded to say 'excuse me.'"